Whiskey You're The Devil lyrics
The Pogues
Now brave boys, we're on the march
Off to Portugal and Spain
Drums are beating, banners flying
The Devil at home will come tonight
So it's go, fare thee well
With a too da loo ra loo ra doo de da
A too ra loo ra loo ra doo de da
Me rikes fall too ra laddie-o
There's whisky in the jar

Whiskey, you're the devil, you're leadin' me astray
Over hills and mountains and to Amerikay
You're sweeter, stronger, decenter, you're spunkier than tea
O whiskey, you're my darlin' drunk or sober

The French are fighting boldly
Men are dying hot and coldly
Give every man his flask of powder
His firelock on his shoulder
So its go, fare thee well
With a too da loo ra loo ra doo de da
A too ra loo ra loo ra doo de da
Me rikes fall too ra laddie-o
There's whisky in the jar

Whiskey, you're the devil, you're leadin' me astray
Over hills and mountains and to Amerikay
You're sweeter, stronger, decenter, you're spunkier than tea
O whiskey, you're my darlin' drunk or sober
[Instrumental]
Whiskey, you're the devil, you're leadin' me astray
Over hills and mountains and to Amerikay
You're sweeter, stronger, decenter, you're spunkier than tea
O whiskey, you're my darlin' drunk or sober

Says the old man do not wrong me
Don't take me daughter from me
For if you do I will torment you
When I'm dead my ghost will haunt you
So its go, fare thee well
With a too da loo ra loo ra doo de da
A too ra loo ra loo ra doo de da
Me rikes fall too ra laddie-o
There's whisky in the jar
Whiskey, you're the devil, you're leadin' me astray
Over hills and mountains and to Amerikay
You're sweeter, stronger, decenter, you're spunkier than tea
O whiskey, you're my darlin' drunk or sober
Song Details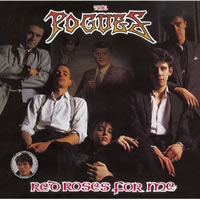 Author/Composer: Unknown
Source: Wehman's 10-Cent Irish Songster (c1895) No.1 p.31
Brief: The story of a soldier boy who loves his whiskey which leads him astray. Travelling through many lands with musket in hand, he looks forward to days end when there's whiskey in the jar... the Devil at home will come tonight where the Devil refers to whisky. He has a girlfriend and the father threatens to haunt the singer if he takes his daughter from him.
References:
rikes - a realm, kingdom, empire, nation
Amerikay - America
firelock - a muzzle loader that had a flintlock type of gunlock - musket
spunkier - spirited, plucky
Category: Folk Song
Covers: The Clancy Brothers, The Rumjacks, Liam Clancy, Orthodox Celts, Bella Hardy, The Poxy Boggards, Shilelagh Law, Brigham Phillips, Frank Carson, Dead Man's Hand, Paddy's Pig, King Laoghaire, Greenland Whalefishers...
Album by The Pogues: Red Roses For Me (January 16, 1989 / September 13, 2010).