When Irish Eyes Are Smiling lyrics
Méav Ní Mhaolchatha
There's a tear in your eye,
And I'm wondering why,
For it never should be there at all.
With such pow'r in your smile,
Sure a stone you'd beguile,
So there's never a teardrop should fall.
When your sweet lilting laughter's
Like some fairy song,
And your eyes twinkle bright as can be;
You should laugh all the while
And all other times smile,
And now, smile a smile for me.
[Chorus]
When Irish eyes are smiling,
Sure, it's like the morn in Spring.
In the lilt of Irish laughter
You can hear the angels sing.
When Irish hearts are happy,
All the world seems bright and gay.
And when Irish eyes are smiling,
Sure, they steal your heart away.
For your smile is a part
Of the love in your heart,
And it makes even sunshine more bright.
Like the linnet's sweet song,
Crooning all the day long,
Comes your laughter and light.
For the springtime of life
Is the sweetest of all
There is ne'er a real care or regret;
And while springtime is ours
Throughout all of youth's hours,
Let us smile each chance we get.
[Chorus]
Song Details

Lyrics: Chauncey Olcott & George. Graff Jr.
Music: Ernest R. Ball.
Date: 1912
The song's lyrics celebrate the joy and warmth of Irish hospitality and the charm of Irish people. It uses the image of smiling Irish eyes as a metaphor for the happiness and good spirits found in Ireland. The lyrics evoke a sense of nostalgia and longing for the Emerald Isle, reminding listeners of the beauty and allure of Ireland and its people.
Category: Irish Folk
Covers: Bing Crosby, The Irish Tenors, Daniel O'Donnell, John McCormack, Méav Ní Mhaolchatha (featured), John McDermott, Dennis Morgan, Dennis Day, Ruby Murray, Foster & Allen, Roger Whittaker, Joni James, Frank Patterson, Mary Duff.
The song by Méav is featured on the album by RTE Concert Orchestra - Spirit of Ireland (Jan 1, 2003). Meav also features in 2 other songs on the album - The Last of the Summer & Danny Boy.
The Authors
A little bit about Chauncey Olcott, George Graff, Jr. and Ernest R. Ball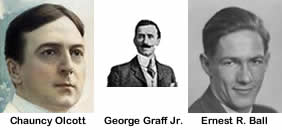 Chauncey Olcott was born in 1858 in Buffalo, New York. He was singer, songwriter and stage actor who sang in minstrel shows and later became a Broadway star with the help of Lillian Russel. In 1899, he wrote the song, My Wild Irish Rose for the production of A Romance of Athlone. When Irish Eyes Are Smiling was written in 1912 for the production of The Isle Of Dreams. When he retired, he moved to Monte Carlo where he later died in 1932. He was returned home where he was buried in the Woodlawn Cemetery which was located in The Bronx, New York.
George Graff, Jr. was born in 1886 in New York City. He was a songwriter and along with Chauncey Alcott, wrote the lyrics to 'When Irish Eyes Are Smiling'. He was responsible for writing many songs in collaboration with either Arthur Fields or Ernest Ball who were both noted singer/songwriters of the time. In 1973, he died at the age of 86 in Stroudsburg, Pennsylvania.
Ernest R. Ball was born in Cleveland Ohio on 1878. His most famous music composition was When Irish Eyes Are Smiling. He was an accomplished pianist who wrote many ballads with Irish themes. He wrote many American standards, sang in vaudeville, and also accompanied other singers. He died in 1927 while on tour in Santa Ana, California. It is interesting to note that his grandson was responsible for the manufacture of Ernie Ball guitar strings.