Jackie lyrics
Sinead O'Connor
Jackie left on a cold, dark night
Telling me he'd be home
Sailed the seas for a hundred years
Leaving me all alone
And I've been dead for twenty years
I've been washing the sand
With my ghostly tears
Searching the shores for my Jackie-oh
I remember the day the young man came
He said, "Your Jackie's gone
We got lost in the rain"
And I ran to the beach
And laid me down
"You're all wrong", I said
And they stared at the sand
"That man knows that sea
Like the back of his hand
He'll be back some time
Laughing at you"
And I've been waiting all this time
For my man to come
Take his hand in mine
And lead me away
To unseen shores
I've been washing the sand
With my salty tears
Searching the shore
For these long years
And I'll walk the seas forever more
Till I find my Jackie-oh
Till I find my Jackie-oh
Till I find my Jackie-oh
Jackie-oh
Jackie-oh
Jackie-oh...
Song Details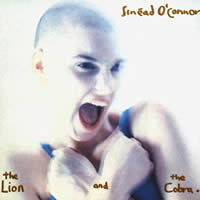 Many of Sinéad O'Connor's songs deal with her life, but "Jackie" is a story she made up about a ghost doomed to spend eternity looking for her husband.
She explained in her memoir Rememberings: "I had seen a play on TV about a very old lady in Scotland who was coming toward her own death. She would spend her days looking through her curtained window, waiting to see her long-gone husband return from a fishing trip he'd taken 40 years earlier and during which he'd drowned. They had been childless, and she never met anyone else. This inspired me, somehow, to write 'Jackie,' about a character who is wandering the beach waiting for the return of someone dead. In my song, the narrator is a ghost."
"Rememberings" is a memoir written by Irish singer-songwriter Sinéad O'Connor. The book was published in June 2021 and provides an intimate and candid look into O'Connor's life and career.
In "Rememberings," Sinéad O'Connor shares her personal journey, discussing various aspects of her life, including her childhood, struggles with mental health, relationships, and experiences in the music industry. The memoir delves into the highs and lows of her career, touching on her rise to fame, controversies, and the impact of her music on fans and the broader cultural landscape.
One of the central themes of the book is O'Connor's dedication to her artistry and her determination to stay true to herself despite facing immense challenges and public scrutiny. She reflects on the profound impact of her iconic hit "Nothing Compares 2 U" and how it affected her life and career.
"Rememberings" offers readers a raw and unfiltered account of O'Connor's life, providing insight into the experiences that shaped her as a person and as an artist. It is a deeply personal and reflective memoir that resonates with fans and readers who admire her music and admire her courage in speaking her truth... read more