James Connolly lyrics
The Wolfe Tones
A great crowd had gathered outside of Kilmainham,
Their heads all uncovered they knelt to the ground,
For inside that grim prison lay a brave Irish Soldier,
His life for his Country about to lay down.
He went to his death like a true son of Ireland,
The firing party he bravely did face,
Then the order rang out, "Present arms and fire,"
James Connolly fell into a ready made grave.
The black flag was hoisted, the cruel deed was over,
Gone was the man who loved Ireland so well.
There was many a sad heart in Dublin that morning,
When they murdered James Connolly, the Irish Rebel.
God's curse on you England, you cruel hearted monster
Your deeds they would shame all the devils in hell.
There are no flowers blooming but the shamrock is growing
On the grave of James Connolly, the Irish Rebel.
The Four Courts at Dublin the English bombarded,
The spirit of freedom they tried hard to quell,
But above all the dead rose the cry "No Surrender",
'Twas the voice of James Connolly, the Irish Rebel.

James Connolly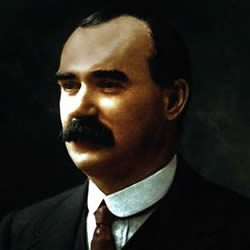 Born: Séamas Ó Conghaile on the 5th June, 1868 in Cowgate, Edinburgh, Scotland. His parents had emigrated to Scotland from County Monaghan, part of the Border Region in the province of Ulster
Died: 12th May, 1916 at age 47 in nham Gaol, Dublin, Ireland.
Allegiance: Irish Citizen Army, Irish Labour Party, Irish Republican Brotherhood, Irish Socialist Republican Party, Socialist Labor Party
Years Of Service: 1913–1916
Rank: Commandant General
Wars / Battles: Land War, Dublin Lock-out, Easter Rising
Song Details
Collected and Arranged: The Wolfe Tones
Brief: The story about James Connolly, a leading figure in recent Irish history who played a leading part in the Easter Uprising of 1916. He was badly injured in the Rebellion and with only days to live, was unable to stand before the firing squad. He was carried to the prison courtyard on a stretcher, tied to a chair and shot dead. His execution by British forces outraged many, and today is regarded as one of Ireland's greatest heroes.
References:
Kilmainham - suburb of Dublin, south of the River Liffey and west of the city centre.
Sackville Street - Dublin's main thoroughfare (named after Lionel Sackville, 1st Duke of Dorset in the late 1700s until 1924) - it is now called O'Connell Street.
Category: Irish Rebel Song
Covers: Celtic Thunder, Phil Coulter, The Sheringham Shantymen, Derek Ryan, Malachi Cush, The Alexander Brothers...
Album: 25th Anniversary - (Jan 1, 1963).