Kevin Barry lyrics
The Wolfe Tones
In Mountjoy jail one Monday morning
High upon the gallows tree
Kevin Barry gave his young life
For the cause of liberty
Just a lad of eighteen summers
Yet there's no one can deny
As he walked to death that morning
He proudly held his head on high
Just before he faced the hangman
In his dreary prison cell
British soldiers tortured Barry
Just because he would not tell
The names of his brave comrades
And other things they wished to know
"Turn informer or we'll kill you"
Kevin Barry answered, "no"
Another martyr for old Ireland
Another murder for the crown
Whose brutal laws may kill the Irish
But can't keep their spirit down
Lads like Barry are no cowards
From the foe they will not fly
Lads like Barry will free Ireland
For her sake they live and die
Kevin Barry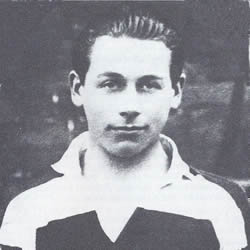 Born: Kevin Gerard Barry on the 20th January, 1902 at 8 Fleet Street, Dublin, Ireland.
Died: 1st November, 1920 (aged 18) at Mountjoy Jail, Dublin.
Occupation: Medical Student
Song Details
Writer: Traditional
Brief: The story of Kevin Barry - the first Irish republican to be executed by the British since the leaders of the Easter Rising. He was involved in an Irish Volunteers operation which led to the death of 3 British soldiers, and for his part he was sentenced to death. He was a young medical student at the time, and after his capture he was tortured all the while refusing to inform on his comrades making him one of the most celebrated of Republican martyrs. His execution was by hanging and it caused a great deal of public outcry at home and abroad fueling the escalation in violence that was about to come.
References:
Mountjoy jail - prison located in Phibsborough in the centre of Dublin, Ireland.
Gallows tree - a frame, typically wooden, used for execution by hanging
Category: Irish Rebel Song
Covers: The Wolfe Tones (featured), The Clancy Brothers, The Dublin City Ramblers, Declan Hunt, Paddy Malone Singers, Tommy Makem, The Ploughboy Lads...
Album: Irish To The Core (Jan 01, 1993)