The Minstrel Boy
John McDermott
The Minstrel boy to the war is gone,
In the ranks of death you'll find him,
His father's sword he has girded on,
And his wild harp slung behind him
"Land of Song!" said the warrior bard,
"Tho' all the world betrays thee,
One sword at least, thy rights shall guard,
One faithful harp shall praise thee!"
The Minstrel fell! But the foe man's chain
Could not bring his proud soul under,
The harp he loved ne'er spoke again,
For he tore its chords asunder
And said "No chains shall sully thee,
Thou soul of love and bravery!
Thy songs were made for the pure and free,
They shall never sound in slavery!"
Song Details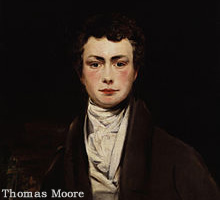 Lyrics: Thomas Moore (1779–1852) - poet, singer/songwriter, musician, and author... read more
Music: Set to the music of an old Irish air called The Moreen.
Thomas Moore: Born on the 28th May, 1779 in Dublin, Ireland. His most noted works include The Minstrel Boy, and The Last Rose Of Summer.
Died: 25th February, 1852, at the age of 72 at Sloperton Cottage, Bromham Wiltshire, England.
Brief: Composed in remembrance of his friends who fought and died during the Irish Rebellion of 1798
Category: Political, Soldiering, Patriotic
Library Ireland: A look at The Minstrel Boy sheet music from 1895 taken from The Irish Melodies by Thomas Moore, and arranged by Charles Villiers Stanford.
Covers: John McDermott, Clancy Brothers, Joe Strummer And The Mescaleros, The Corrs.
Album: Danny Boy... (01 Jan, 1992)
Featured Artist: John McDermott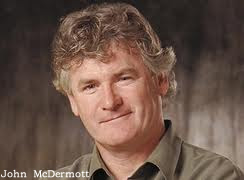 Born: John Charles McDermott on the 25th March 1955 in Glascow, Scotland, UK.
Occupation: Singer (tenor), songwriter, and record producer
Active Years: 1980 - present
Instruments: Vocals, piano, keyboards, guitar
Associated Acts: The Irish Tenors, St Michael's Choir School