The
Orange

And The

Green

Lyrics
The Irish Rovers
[Chorus]
Oh, it is the biggest mix-up that you have ever seen.
Me father he was Orange and me mother she was Green.
Oh my father was an Ulster man, proud Protestant was he.
My mother was a Catholic girl, from county Cork was she.
They were married in two churches, lived happily enough,
Until the day that I was born and things got rather tough.
[Chorus]
Baptized by Father Riley, I was rushed away by car,
To be made a little Orange-man, me father's shining star.
I was christened "David Anthony," but still, in spite of that,
To my father, I was William, while my mother called me Pat.
[Chorus]
With Mother every Sunday, to Mass I'd proudly stroll.
Then after that, the Orange lodge would try to save my soul.
For both sides tried to claim me, but I was smart because
I'd play the flute or play the harp, depending where I was.
[Chorus]
One day me Ma's relations came round to visit me.
Just as my father's kinfolk were all sittin' down to tea.
We tried to smooth things over, but they all began to fight.
And me, being strictly neutral, I bashed everyone in sight.
[Chorus]
Now my parents never could agree about my type of school.
My learnin' was all done at home, that's why I'm such a fool.
They've both passed on, God rest 'em, but left me caught between
That awful colour problem of the Orange and the Green.
Oh, it is the biggest mix-up that you have ever seen.
Me father, he was Orange and me mother, she was Green.
Yes, it is the biggest mix-up that you have ever seen.
Me father, he was Orange and me mother, she was Green.
Song Details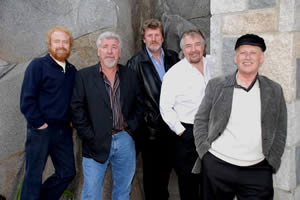 Words & Music: Anthony Murphy from Liverpool, England.
Brief: It is an Irish folk song about a man who had a Protestant father (orange), and a Catholic mother (green). The song follows the life of this man from birth to adulthood, and how mixed up he was due to his parents' religious differences. It is an entertaining song which highlights the Catholic/Protestant situation in a light-hearted manner.
Category: Irish Folk
Covers: The Wolfe Tones, Brobdingnagian Bards, The Kreellers, The Irish Ceili Band, The Shamrock Singers, Carlyle Fraser, Hair of the Dog, Grehan Sisters, The Clancey's...
Album:The Irish Rovers 50 Years, Vol. 1 (March 1, 2014).
A little bit about the late, great Jimmy Ferguson
Jimmy Ferguson was born James Francis Ferguson on February 26th, 1940. He was the founding member of the band, The Irish Rovers. He was born in Belfast, Northern Ireland, and emigrated to Canada as a young man. It was there that he met George Millar in 1963, at an Irish function in Toronto. They formed a folk duo, and a year later, they were joined by Millar's cousin, Joe Millar. It was after they had toured Ontario, that Millar's brother Will, joined the band in Calgary... The Irish Rovers were formed.
Jimmy Ferguson, was the only member of the band that didn't play an instrument. He suffered a heart attack while the band was touring New Zealand in 1992. Heart problems continued to plague him for the rest of his life. He died at the early age of 57 while touring Worcester, Massachusetts in 1997.
He was a great singer, and as you can see from the video - had loads of personality. He always 'sparkled' when he performed, and what a performer he was. He will always be remembered as the late, great Jimmy Ferguson.