Peggy Gordon lyrics
Donna Taggart
O Peggy Gordon, you are my darling
Come sit you down upon my knee
Come tell to me the very reason
Why I am slighted so by thee
I'm so deep in love, sure I can't deny it
My heart lies smothered in my breast
But it's not for you to let the whole world know it
For a troubled mind can't find no rest
I put my head to a cask of brandy
It was my fancy, I do declare
For when I'm drinking, I'm always thinking
And wishing Peggy Gordon was here
O Peggy Gordon, you are my darling
Come sit you down upon my knee
Come tell to me the very reason
Why I am slighted so by thee
I wish I was away in Ingo
Or far away across the briny sea
Or sailing over the deepest ocean
Where Peggy Gordon never bothers me
I wish I was in a lonesome valley
Where womankind cannot be found
And where the birds, they change their voices
And every moment, a different sound
O Peggy Gordon, you are my darling
Come sit you down upon my knee
Come tell to me the very reason
Why I am slighted so by thee
Why I am slighted so by thee
Song Details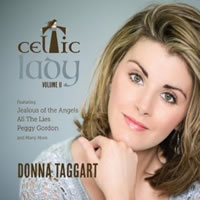 Collection: Originating from Canada, this folk song was first collected in the 50's and 60's, mainly throughout Nova Scotia, and quickly found its way to many English speaking countries around the world, especially Ireland and the British Isles where Folk Music was hugely popular.

Brief: A song about a man who has been slighted by the love of his life... all the while wanting to know why? His heart has been broken and resorts to drinking to relieve the pain of a broken heart, only to find that it makes him think of her constantly. He wishes he was in a far valley where "womankind cannot be found", or far away across the sea where love nor care will never trouble him again.
Category: Love Song
Covers: The Corrs (Home), Sinead O'Connor, The Dubliners, The High Kings, The Chieftains and The Secret Sisters, The Clancy Brothers & Tommy Makem, Blackthorn, Paddy Reilly, Bridget McMahon, Ann Mooney, The Bards, Donna Taggart from her album Celtic Lady (pictured).