The High Kings Song Lyrics
Irish Folk Songs
Artists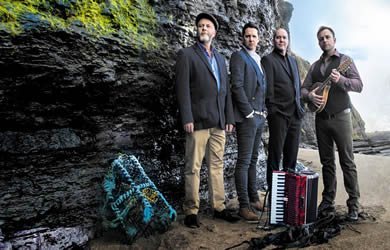 The High Kings
Irish folk band The High Kings are renowned for their mellow vocal harmonies, authentic Irish music, and upbeat concerts. The group was formed in 2007 and consists of four members: Finbarr Clancy, Brian Dunphy, Darren Holden, and Paul O'Brien. Each member of the group has a strong musical background, often rooted in their families' musical legacies.
Past members include Martin Furey (retired in 2017) and George Murphy (retired in 2019). Martin Furey is the son of Irish folk musician, Finbar Furey.
Here's a brief overview of each member and their backgrounds:
Finbarr Clancy:
Finbarr Clancy comes from a renowned musical family, known as Clancy Brothers and Tommy Makem, who were influential in popularizing Irish folk music in the 1960s.
He is the son of Bobby Clancy and nephew of Liam and Paddy Clancy.
Finbarr is a vocalist and plays guitar, banjo, and mandolin.
Brian Dunphy:
Brian Dunphy also comes from a musical family. His father is Sean Dunphy, a popular Irish singer.
Before joining The High Kings, Brian was part of a musical trio called D-Side.
He is a versatile vocalist and plays guitar.
Darren Holden:
Darren Holden is originally from County Kilkenny, Ireland.
He started performing at a young age and became known for his participation in the musical "Riverdance."
Darren is a talented vocalist and plays guitar, piano, and other instruments.
Paul O'Brien:
Paul O'Brien was born in Dublin, Ireland.
He has a background in musical theater and has performed in various productions.
Paul is a skilled vocalist and plays banjo, guitar, and piano.
The High Kings gained popularity for their fresh take on traditional Irish songs, as well as their original compositions. They blend their strong vocal harmonies with a mix of instruments like guitar, banjo, mandolin, and more, creating a dynamic and engaging live performance.
Their debut self-titled album "The High Kings" was released in 2008 and was followed by several more albums. Their music often includes well-known Irish folk songs, ballads, and jigs, presented in a contemporary style that appeals to audiences of all ages.
The High Kings have toured extensively internationally, building a dedicated fan base and contributing to the preservation and revitalization of Irish folk music traditions.