Raglan Road lyrics
Luke Kelly (The Dubliners)
On Raglan Road of an autumn day
I saw her first and knew
That her dark hair would weave a snare
That I might one day rue
I saw the danger and I passed
Along the enchanted way
And I said let grief be a fallen leaf
At the dawning of the day
On Grafton Street in November
We tripped lightly along the ledge
Of a deep ravine where can be seen
The worth of passion's pledge
The Queen of Hearts still making tarts
And I'm not making hay
Oh I love too much and by such by such
Is happiness thrown away
I gave her gifts of the mind
I gave her the secret signs
That known to the artists who have known
The true gods of sound and stone
And word and tint to without stint
I gave her poems to say
With her own name there
And her own dark hair
Like clouds over fields of May
On a quiet street where old ghosts meet
I see her walking now
Away from me so hurriedly my reason must allow
That I had loved not as I should
A creature made of clay
When the angel woos the clay he'll lose
His wings at the dawn of day
Song Details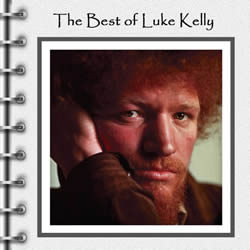 Composer: Traditional Irish Air
Lyrics: Patrick Kavanagh - written as a poem titled On Raglan Road
Brief: The song is about a love affair which was initiated by a young man after he met a beautiful maiden while walking down a quiet street one day. He knew he may end up being hurt but he was prepared to risk it anyway.
Category: Folk
Luke Kelly: Born on November 17, 1940 in Sheriff Street, Dublin, Ireland and died on January 30, 1984 at the age of 43 from a brain tumour. He sang and played banjo for the hugely successful Irish Folk Band, The Dubliners from 1960 - 1984... more
Covers: Van Morrison & The Chieftains, Colm Keegan, Frank Patterson, Tommy Sands, The High Kings, Paddy Reilly, North Sea Gas, Ed Sheeran, Sinéad O'Connor, Dick Gaughan, Loreena McKennitt, Órla Fallon, Tommy Fleming.
Album:The Best Of Luke Kelly (pictured)