Raglan Road lyrics
Luke Kelly (The Dubliners)
On Raglan Road of an autumn day
I saw her first and knew
That her dark hair would weave a snare
That I might one day rue
I saw the danger and I passed
Along the enchanted way
And I said let grief be a fallen leaf
At the dawning of the day
On Grafton Street in November
We tripped lightly along the ledge
Of a deep ravine where can be seen
The worth of passion's pledge
The Queen of Hearts still making tarts
And I'm not making hay
Oh I love too much and by such by such
Is happiness thrown away
I gave her gifts of the mind
I gave her the secret signs
That known to the artists who have known
The true gods of sound and stone
And word and tint to without stint
I gave her poems to say
With her own name there
And her own dark hair
Like clouds over fields of May
On a quiet street where old ghosts meet
I see her walking now
Away from me so hurriedly my reason must allow
That I had loved not as I should
A creature made of clay
When the angel woos the clay he'll lose
His wings at the dawn of day
Song Details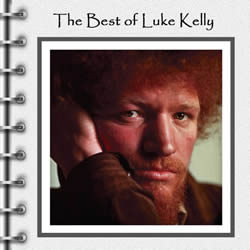 Composer: Traditional Irish Air
Lyrics: Patrick Kavanagh - written as a poem titled On Raglan Road
The following is an comment made on YouTube in relation to the song.
Yes, it was indeed Luke Kelly to whom Patrick Kavanagh had given the poem, Raglan Road, to put to music. Kelly combined Kavanagh's poem with the tune of an Irish language song, Le Fianne Gael An Lae, to produce a masterpiece worthy of Kavanagh's trust in him to do so.
Brief: The song is about a love affair which was initiated by a young man after he met a beautiful maiden while walking down a quiet street one day. He knew he may end up being hurt but he was prepared to risk it anyway.
Category: Folk
Luke Kelly: Born on November 17, 1940 in Sheriff Street, Dublin, Ireland and died on January 30, 1984 at the age of 43 from a brain tumour. He sang and played banjo for the hugely successful Irish Folk Band, The Dubliners from 1960 - 1984.
Covers: Van Morrison & The Chieftains, Sinéad O'Connor, Colm Keegan, Frank Patterson, Tommy Sands, The High Kings, Paddy Reilly, North Sea Gas, Ed Sheeran, Ronan Keating, Dick Gaughan, Loreena McKennitt, Órla Fallon, Tommy Fleming.
Album: The Best Of Luke Kelly (pictured)