Irish Pub Song lyrics
The High Kings
Well, you're walkin' through a city street, you could be in Peru
And you hear a distant calling and you know it's meant for you
Then you drop what you were doing and you join the merry mob
And before you know just where you are, you're in an Irish pub
[Chorus]
They've got one in Honolulu, they've got one in Moscow too
They got four of them in Sydney and a couple in Kathmandu
So whether you sing or pull a pint you'll always have a job
'Cause where ever you go around the world you'll find an Irish pub
Now that design is fairly simple and it usually works the same,
You'll have 'Razor Houghton' scoring in the Ireland - England game
And you know your in an Irish pub the minute you're in the door,
For a couple of boys with bodhrans will be murdering Christy Moore
[Chorus]
Now the owner is Norwegian and the manager comes from Cork
And the lad that's holding up the bar says 'Only Eejits Work'
He was born and bred in Bolton but his mammy's from Kildare
And he's going to make his fortune soon and move to County Clare
[Chorus]
Now it's time for me to go, I have to catch me train
So I'll leave ye sitting at the bar and face the wind and rain
For I'll have that pint you owe me, if I'm not gone on the dry
When we meet next week in Frankford in the fields of Athenry
[Chorus x 2]
Wherever you go around the world you'll find an Irish pub
Song Details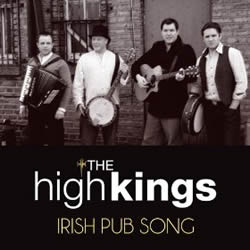 Music & Lyrics: Same tune as Napoleon Crossing The Alps (Irish Barndance), Hot Asphalt, Mr. Maguire which was also named Let Mr. McGuire Sit Down by The Irish Rovers.
Lyrics: Brian Flynn
Brief: A song about Irish pubs and their popularity world-wide. No matter where you go in the world, you will always find an Irish pub or two or three!
References:
Peru - country in western South America
Honolulu - the capital of Hawaii
Moscow - the capital of Russia
Sydney - the capital of New South Wales, Australia
Kathmandu - capital of Nepal (small landlocked Asian country high in the Himalayas between  India and China)
Razor Houghton - Ireland legendary soccer player
bodhran - a handheld goatskin drum used in traditional Irish music - often played with a stick
Christy Moore - famous Irish Folk singer
Cork - city in Ireland located in the South-West Region in the province of Munster
Eejits - slang term for 'idiots'
Bolton - town in Greater Manchester, in the North West of England
Kildare - town in County Kildare, Ireland 50 km west of Dublin
County Clare - a county in Ireland located in the Mid-West Region in the province of Munster
Athenry - a town in County Galway, Ireland 25 km (16 miles) east of Galway city
Category: Folk Song
The High Kings: Irish folk band formed in Dublin, Ireland in 2008. The members of the band include Finbarr Clancy, Brian Dunphy, Martin Furey and Darren Holden - Clancy and Furey are synonymous with Folk Music in Ireland - Finbarr is the son of Bobby Clancy from The Clancy Brothers and Martin is the son of Finbar Furey from The Fureys.