The Water Is Wide lyrics
Rowena Taheny, Laurel MacDonald & Eleanor McCain
The water is wide, I can't cross over
And neither I have wings to fly
Give me a boat that can carry two
And both shall row, my love and I
My love is gentle, and love is kind
The sweetest love, when first it's new
But love grows old, and waxes cold
And fades away, like morning dew
There is a ship, she sails the sea
She's loaded deep, as deep can be
But not as deep, as the love I'm in
I know not I'll, I sink or swim
The water is wide, I can't cross over
And neither I have wings to fly
Give me a boat that can carry two
And both shall row, my love and I
And both shall row, my love and I
Song Details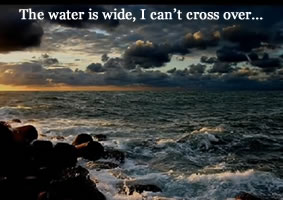 Music & Lyrics: Traditional Scottish Folk Song - 1600's
Brief: The song is also known as O Waly, Waly. Because the song dates several centuries, there have been a number of adaptations with different stories and styles.
This version is perhaps one of the most popular in modern times. The song is about the challenges surrounding love... learn more
Category: Folk Song.
Covers: Maura O'Connell, Enya, Luka Bloom, Charlotte Church, Chloë Agnew (Celtic Woman), Orla Fallon, Mary Black, Rowena Taheny (featured).
Album by Women of Celtic Song - Irish Roses (Jan 01, 2016)