Tipperary Far Away lyrics
The Clancy Brothers & Tommy Makem
The moon it shone down on old Dublin town
When the deadly fight was o'er,
Thousands lay on the cold cold ground
Their lives to claim no more.
The moon shone on O'Connell Street
Where a dying young rebel lay
With his body gashed and his arms outstretched
and his life's blood flowing away.
A passing comrade heard the moans,
The sufferer soon was found.
Softly, gently he raised his head
Up from the cold cold ground.
Softly, gently, "Comrade", he cried,
"No longer on earth can I stay.
I will never more roam through my own native home,
Tipperary so far away."
His comrades gathered around him
To bid him a last farewell.
He was as true and as brave a lad
That ever in battle fell.
They dug a grave and in it they laid
The bones of Sean Treacy so brave,
He will never more roam to his native home,
Tipperary so far away.
Song Details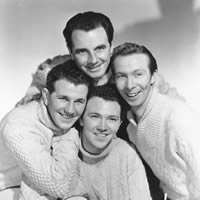 Writer: Unknown
Brief: After a battle, a rebel by the name of Sean Treacy lays dying in the night on Talbot Street in Dublin. He asks a passing comrade to take a lock of his hair and deliver it to his mother in his native home in Tipperary which is a long distance away. His comrades then gather round him to bid him a last farewell... they then dig a grave and bury him.
Category: Irish Rebel Song
Please Note: The song is also titled Sean Treacy or The Ballad of Sean Treacy
Covers: The Clancy Brothers (featured), Brian Corrigan, Willie Brady, The Wolfe Tones (Sean Treacy), The Rebel Hearts (The Ballad of Sean Treacy).
Album by The Clancy Brothers & Tommy Makem - Irish Rebel Songs (July 12, 2018).