Your Love lyrics
Mary Black
How can I say what I feel?
When I turn around, you're not here
I know it's my time to lead
But the emptiness inside leaves me weak
Then in a moment, it all becomes so clear
All I ever wanted was waiting right here
So now I see, now you've been freed
You'll always be near like you were all those years
And now I breathe the life you gave
'Cause I've learned from the best
And I'll always be blessed with your love
We gathered 'round for your last breath
Talked with you while you slept
Somehow I know you'll be all right
Perfect end to a perfect life
Then in a moment, it all becomes so clear
I want so much to tell you, but you're no longer here
So now I see, now you've been freed
You'll always be near like you were all those years
And now I breathe the life you leave
'Cause I've learned from the best
And I've always been blessed with your love
And now I see, now you've been freed
That you'll always be near like you were all those years
And now I breathe the life you gave
'Cause I've learned from the best
And I've always been blessed with your love
Oh... Your love... Your love... Your love...
Song Details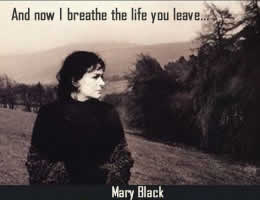 Writers: Danny O'Reilly / Mary Black
Mary Black: Born on May 23, 1955 in Charlemont St., Dublin, Ireland. Born into a musical family, she began performing in 1975 and has been associated with acts including The Black Family, Frances Black (brother), De Dannan, The Coronas and Róisín O (daughter of Mary Black).
Brief: A song of mourning after the death of a loved one - unsure as to whether the loved one was a mother or father, but nevertheless has left a lasting impact on the singer's life.
Category: Folk
Album by Mary Black: Full Tide (October 21, 2005).