Mo Ghile Mear lyrics
Mary Black
Cúrfa
Sé mo laoch mo Ghile Mear
Sé mo Chaesar, Ghile Mear,
Ní fhuaras féin aon suan ar séan
Ó chuaigh i gcéin mo Ghile Mear
Bimse buan ar buairt gach lo
Ag gui go crua 's ag tuar na ndeor
Mar scaoileadh uainn an buachaill beo
'S ná riomhtar tuairisc uaidh, mo bhron
Cúrfa
Ni haoibhinn cuach ba suairc ar ndeoin
Taid fiorchaoin uasal ar uaithne sport
Taid saoite suaite i mhuairt 's i mbron
Ó scaoileadh uainn an buachaill beo
Cúrfa
Nil seis go suairc ar chruachruit ceoil
Ta an eigse i ngruaim gan uaim na meabhair
Taid beathaithe buan ar buairt gach lo
Ó thearnaigh uainn an buachaill beo
Cúrfa
Ní mhaoifad fein ce he mo stor
Ta insint sceal ina dhiaigh go leor
Ach guim chuigh m'aon mhic de ná gcomhacht
Go dteigh mo laoch gan baol beo
Cúrfa
Song Details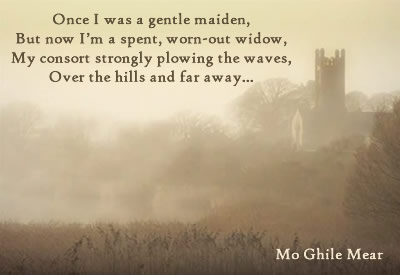 Lyrics: Poem by Seán Clárach Mac Domhnaill (1691-1754) - born in Churchtown, County Cork, Ireland... more
Music: Traditional
Circa: 18th Century
Brief: The song is written in Irish and is a lament by the Gaelic goddess Éire for Bonnie Prince Charlie, who was then in exile. The following is an excerpt from Wikipedia:
In this poem the poet personifies Éire/Ireland, the country itself, as a woman who once was a fair maiden but is now a widow. Her husband, the "Gallant Boy", is not dead but far away. As a consequence the land is failing and nature itself is in decline...wikipedia.org/wiki/Mo_Ghile_Mear
Here is another excerpt by artist Matthew Schwartz (AKA Spadecaller) who featured the video above. He has this to say:
This song, performed by Mary Black, is an Irish tribute to the "Great Pretender", Bonnie Prince Charlie, the descendant of Mary Stewart, Queen of Scots who had sought to sit on the throne of Britian. To put an end to religious persecution in Scotland, occupied Ireland, Wales, and England his loyal followers of the Jacobite movement fought for him to take possession of the crown. The Jacobite rebellion (1745) was put down and hundreds of thousands died in battle under unsurmountable odds. Under secrecy, the prince fled to the continent and died in exile...youtube.com
Category: Political / Soldiering / 18th century
Covers: Mary Black (featured), Orla Fallon, Celtic Woman, Sting & The Chieftans, Deirbhile Ní Bhrolcháin, Pádraigín Ní Uallacháin, Celtic Thunder, Sibeal, Susan McCann and Liam O Maonlai, Annmarie O'Riordan, Brid O Riordan, Donal Lunny and many more.
Album: Collected (1984)
Mo Ghile Mear - English lyrics
Chorus
He's my champion my Gallant Darling,
He's my Caesar, a Gallant Darling,
I've found neither rest nor fortune
Since my Gallant Darling went far away.
Once I was gentle maiden,
But now I'm a spent, worn-out widow,
My consort strongly plowing the waves,
Over the hills and far away.
Every day I'm constantly enduring grief,
Weeping bitterly and shedding tears,
Because my lively lad has left me
And no news is told of him - alas.
The cuckoo doesn't sing cheerfully after noon,
And the sound of hounds isn't heard in the nut-tree woods,
Nor a summer morning in a misty glen
Since my my lively boy went away from me.
Gallant young horseman
An appearance without worry or care
A grip thats sure and quick in battle
Leading the crowd and making us strong
Play a tune on music harps
Fill the quart measures on the table
With high intention, straight and unclouded
That life and health will be had by my lion
Gallant Darling for a while under sorrow,
And Ireland completely under black cloaks;
I have found neither rest nor fortune
Since my Gallant Darling went far away.