My Land lyrics
Celtic Thunder
How green are your valleys, how blue your great skies,
Your mountains stand tall in their glory.
Your rivers run free, the bright stars are your eyes,
Your beauty is endless before me.
[Chorus]
You are the song ever singing in me,
And you are the heart ever true.
For you are my land and you always will be,
The voice ever calling me home to you.
When times we are far from your forests and streams,
When sailing from your shining waters.
We carry your hopes, your spirit, your dream,
In the hearts of your sons and your daughters.

[Chorus]
When to your green valleys some day I return,
When you lay your mantle around me,
At rest I will be where the heart will not yearn,
With my land to ever surround me.
[Chorus]
[Chorus]
The voice ever calling me home... to you.

Song Details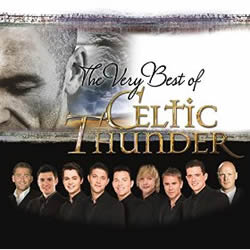 Music & Lyrics: Rolf Løvland & Brendan Graham - also responsible for the huge international hit - You Raise Me Up

Rolf Loveland: Norwegian composer and lyricist - born in 1955, Kristiansand, Norway - previously from Celtic Band, Secret Garden.

Brendan Graham: Irish songwriter and novelist - born in 1945, Count Tipperary, Ireland.

Category: New Age, Adult Contemporary

Brief The song is about the love of one's country - the beauty of its nature and its spirit deeply entrenched in the hearts of its people.

Covers: Celtic Woman, Paul Byrom, Jim Brickman, Celtic Thunder from the album The Very Best Of Celtic Thunder (pictured).

[an error occurred while processing this directive]