Gabriel's Message lyrics
Celtic Thunder
The Angel Gabriel from heaven came,
His wings as drifted snow, his eyes as flame;
'All hail,' said he, 'thou lowly maiden Mary,
Most highly favoured lady.'
Gloria!
'For now a blessèd Mother thou shalt be,
All generations laud and honour thee,
Thy son shall be Emmanuel, by seers foretold;
Most highly favoured lady.'
Gloria!
Then gentle Mary meekly bowed her head,
'To me be as it pleaseth God,' she said,
'My soul shall laud and magnify his holy name':
Most highly favoured lady.
Gloria!
Of her, Emmanuel, the Christ was born
In Bethlehem, all on a Christmas morn,
And Holy men throughout the world will ever say
'Most highly favoured lady.'
Gloria!
Song Details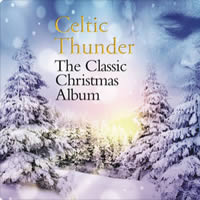 Paraphraser: S. Baring-Gould - translated the carol from the Basque language to English.
Born: Sabine Baring-Gould on the 28th January, 1834 in the parish of St Sidwell, Exeter, England.
Died: 2nd January, 1924 (aged 89)
Occupation: Anglican priest, hagiographer, antiquarian, novelist, folk song collector and eclectic scholar... read more.
Brief: Gabriel's Message is a Basque Christmas folk carol about the Annunciation to the Virgin Mary by the archangel Gabriel that she would become the mother of Jesus Christ the Son of God. The carol is based on a Basque song called "Birjina gaztetto bat zegoen" (There Was a Young Virgin), which was collected by Charles Bordes and published in the series Archives de la tradition basque in 1895. Sabine Baring-Gould, who wrote several novels and hymns (including "Onward Christian Soldiers"), translated the carol into English, reducing the original 6 stanzas to 4 and giving Gabriel the very beautiful and very Victorian "wings as drifted snow".
The carol begins with Gabriel appearing to Mary and greeting her with the words "All hail". He then tells her that she has been chosen by God to be the mother of his Son. Mary is initially surprised and asks how this can be, as she is a virgin. Gabriel explains that the Holy Spirit will come upon her and the power of the Most High will overshadow her, and that the child she will bear will be called "Son of God".
Mary accepts God's will and says, "To me be as it pleaseth God". She then sings a hymn of praise to God, declaring that her soul will "laud and magnify" his holy name.
The carol ends with the words "Most highly favoured lady". This is a reference to the words of Gabriel to Mary, who called her "highly favoured" (κεχαριτωμένη, kecharitomene) in the Gospel of Luke. This word is often translated as "blessed", but it has a richer meaning than that. It means that Mary has been filled with grace by God, and that she is therefore especially favoured by him.
The significance of Gabriel's message is that it announces the coming of the Messiah, Jesus Christ. Mary's response of faith and obedience is an example for all Christians to follow. The carol is a beautiful and moving celebration of the Annunciation, and it is often sung during the Christmas season.
Please Note: These are the 2 verses that were omitted - Verses 3&6:
'And he shall be great, and shall be called
The Son of the Highest: and the Lord God
Shall give unto him the throne of his father David:
And he shall reign over the house of Jacob for ever;
And of his kingdom there shall be no end.' Gloria!
O Mary, blest above all women,
To whom the Lord vouchsafed his grace,
We pray thee intercede for us,
That we may be made worthy to behold
The face of our Redeemer. Amen. Gloria!
Here are some artists who have performed "Gabriel's Message":
Moya Brennan: Irish folk singer, songwriter, harpist, and philanthropist recorded the song on her album, "An Irish Christmas".
Annie Lennox: The Scottish singer Annie Lennox included the song on her 2010 holiday album "A Christmas Cornucopia."
Kate & Anna McGarrigle: The Canadian folk singing duo Kate & Anna McGarrigle recorded a rendition of the song for their album "The McGarrigle Christmas Hour" released in 2005.
Yo-Yo Ma: The renowned cellist Yo-Yo Ma performed an instrumental version of the song on his album "Songs of Joy & Peace."
The King's Singers: This British a cappella vocal ensemble has recorded a beautiful rendition of the song on their Christmas album "Christmas Presence."
Charlotte Church: The Welsh soprano and classical crossover artist included the song on her Christmas album "Dream a Dream."
Amanda Palmer: is featured on the album "All Is Bright" singing the song a cappella accompanied by a choir.
Sting: English musician Sting recorded a version of the song for his 1987 album "If on a Winter's Night..." The song features a haunting and atmospheric arrangement.
Sting & Edin Karamazov: In addition to his solo recording, Sting also collaborated with Edin Karamazov for an intimate version of "Gabriel's Message" on their album "If on a Winter's Night... Live from Durham Cathedral."
These are just a few of the artists that have covered the song in a variety of styles, from traditional folk to pop to classical.