Oro Oro lyrics
The Fureys
Oro, oro,
Oro abhaile Michael
Oro se do bheatha 'bhaile
But find us bloody work there
From Donegal to County Kerry,
From Belfast City to the hills of Derry
We come from Clare, from Meath and Mayo
To work across the ocean
[Chorus]
I see Rossleare and the Wexford Harbour
The Waterford coast with the fishing trawler
We crossed Kildare right through to Carlow
To work across the ocean
[Chorus]
I'm tired of leaving the hills of Galway
I'm fed up with sailing away from Dublin
We just left Limerick and Cork behind us
To work across the ocean
[Chorus]
I'm tired of the tears from me mother Katie
I'm fed up of leaving me sister Mary
And me father sayin, "Take it nice and easy."
When workin' across the ocean
[Chorus]
We don't need the pity of the politicians
With crocodile tears and useless petitions
Just give us some work with suitable positions
Stop the exodus across the ocean
[Chorus x2]
Song Details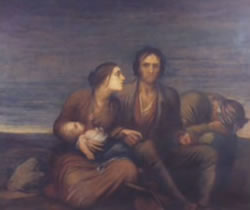 Music & Lyrics: Traditional - This version is adaptation of an old rebel song called Óró sé do bheatha abhaile.
The song was originally considered an Irish Folk song, but came to be known as a 'rebel song' in the early 20th century when the nationalist poet, Patrick Pearce added new verses. They were sung by members of the 'Irish Volunteers' during the 'Easter Rising', and as a fast march during the 'The Irish War of Independence'.
There have been many adaptations to the song since that time and this version by The Fureys is perhaps one of the most popular.
Brief: A song about the hardships endured by the Irish during tough political and economic times, leaving their families and beloved country time and time again to find work on distant shores with a plea to politicians to provide economic stability so they can live and provide for their families at home.
Meanings:
Oro: a cheer
sé do bheatha abhaile - welcome home - (spelled as bheatha 'bhaile in the song)
Category: Traditional Irish Folk
Covers - Óró, sé do bheatha abhaile: Celtic Woman, The Cassidy's, Cruachan, The Clancy Brothers and Tommy Makem, Tom Donovan, The Dubliners, The Irish Tenors, Seo Linn, Noel McLoughlin, The McPeake Family, Sinéad O'Connor, John Spillane, The Twilight Lords, Thomas Loefke & Norland Wind, and The Wolfe Tones.
Album by The Fureys - Winds Of Change (Jan 01, 1993).