Petit Poulet lyrics
Sinead O'Connor
Petit poulet (Little chicken)
Tout ca c'est OK (everything is alright)
Maintenant bebe (now baby)
Tout ca c'est OK (everything is alright)
The life you left behind won't find you
The love you kept inside will come
And even when your own heart blinds you
Nothing undoes the work you've done
The sun's still in the sky
The moon is there at night
The ground's still underfoot
And still holds you
Petit poulet (Little chicken)
Tout ca c'est OK (everything is alright)
Maintenant bebe (now baby)
Tout ca c'est OK (everything is alright)
Doo doo loo loo loo too too...
There isn't any answer to the question
You only learn to live with it
There isn't any answer in religion
Don't believe one who says there is
But the voices are heard
Of all who cry
I am around you as long in the night
Kissing your plight
Baby child
Kissing your plight
Kissing your plight
I am the sun up in the sky
I am the moon also at night
I am the ground under your foot
I am holding you
Petit poulet (Little chicken)
Tout ca c'est OK (everything is alright)
Maintenant bebe (now baby)
Tout ca c'est OK (everything is alright)
Doo doo loo loo loo too too...
Song Details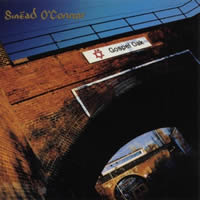 The song Petit Poulet is a French-English song that was released by Sinead on her 1997 EP, Gospel Oak. When asked about the song. Sinead replied, "This is a song of mine that I wrote to soothe hurt babies".

This is a reference to all our "little ones" that have endured difficult circumstances, whether it be through illness, famine, war, etc.

Here is a comment made on a video presentation of the song:
My baby was in special care. He was twin 2. It took along time until he could breathe his own air. This little song was there when I looked at him and he just became my little chicken. Twin1 and twin 2 are twelve now and will soon be bigger than me. Thank you God and thank you Sinead. Many thanks x x
The lyrics convey a message of reassurance and comfort, and the unconditional love a mother has for her child.