This Is To Mother You lyrics
Sinead O'Connor
This is to mother you 
To comfort you and get you through 
Through when your nights are lonely 
Through when your dreams are only blue 
This is to mother you 
This is to be with you 
To hold you and to kiss you too 
For when you need me I will do 
What your own mother didn't do 
Which is to mother you 
All the pain that you have known 
All the violence in your soul 
All the 'wrong' things you have done 
I will take from you when I come 
All mistakes made in distress 
All your unhappiness 
I will take away with my kiss, yes 
I will give you tenderness 
For child I am so glad I've found you 
Although my arms have always been around you 
Sweet bird although you did not see me 
I saw you 
And I'm here to mother you 
To comfort you and get you through 
Through when your nights are lonely 
Through when your dreams are only blue 
This is to mother you...
Song Details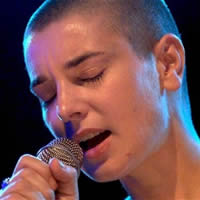 Music & Lyrics: Sinead O'Connor
Released: 3rd June, 1997
Album: Gospel Oak
Brief: There are a number of organizations around the world set up to protect motherless or abused children. The song expresses a simple promise to vulnerable children throughout the world: You may not see us, but we see you - and we will always love and care for you.
Category: Alternative / Indie
Covers: Mary J Blige & Martha B (recorded a vesion for the GEMS organization - Girls Educational and Mentoring Services), Jennifer Berezan, Linda Ronstadt & Emmylou Harris, The Opiate Mass, Teri.